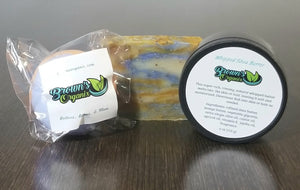 Bundle and save with our Self Care Bundle! Choose one of our 3 scent offerings and get a bath bomb, a soap bar, and a 4-ounce whipped shea butter at a discounted price. 
Scent Choices
Eucalyptus Spearmint - Invigorating Eucalyptus and Spearmint combine for a wonderful aromatic experience. Great for sinus issues! 

Florida Sunrise - a zesty citrus experience! Sweet orange essential oil with hints of other citrus fruits. Reminiscent of Satsuma from The Body Shop.
Monkey Farts - This unique fragrance is complex and fruity with banana and grapefruit notes being the stars, blended with kiwi, bubblegum, berries and vanilla. 
Oatmeal Milk & Honey - a classic and clean combination of... well, oatmeal, milk, & honey. The soap has oatmeal in it, making it perfect for soothing your skin!
Ocean Breeze - Ocean Breeze will take you to an oceanside, where the air is saturated with fresh flowering vegetation and greenery. Complex and yet refreshing and not overpowering. 
Patchouli - Nothing but the decadent, earthy aroma of patchouli, made with pure patchouli essential oil. **Patchouli oil can affect blood clotting. Therefore, the use of patchouli oil should be avoided in those taking blood-thinning medications, individuals who have recently or will soon have major surgery, or those with bleeding disorders.

Vanilla Sugar - An amazing Vanilla fragrance with notes of raw sugar, caramel, natural vanilla and delicate florals for a balanced, pleasant, yet not overwhelming vanilla scent. 
Christmas Gifts!
I had originally bought Shea butter for me last summer and loved it so I knew it would be great for Christmas presents. I got the self-care bundles for my sisters and best friends and they all loved it! They brag about wearing Monkey Fart!! 😂 and my one friend even admitted to using the Shea butter in her baby boy's hair and skin because it's so much smoother that other Shea butters and she loves smelling him all day! Thank you once again for an amazing product!
Awesome bundle - Monkey Farts
Love the smell of everything. The soap is addictive; but still waiting for the perfect time to soak with my bath bomb!